Meetings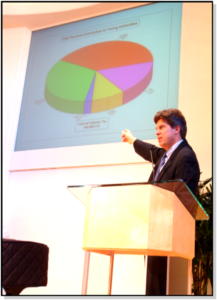 Your Corporate Retreat is
High Tech—High Touch
at our beautiful Campus
Unity In Marin has a beautiful campus for special events, meetings, and workshops in a beautiful, serene setting. From the lush vegetation in the inviting court-yard, to the soaring ceilings and Spanish Colonial style architecture, to the spectacular exposed wood beam ceiling of the Sanctuary, Unity In Marin provides an inviting and refreshing atmosphere for daytime, evening, indoor and outdoor events. We provides an intimate and sacred environment, and at the same time, many of the same amenities that could be expected at a large hotel or convention hall.
Just 37 miles from SFO and OAK, Unity In Marin is just one minute off Highway 101, nestled in the hills of southern Novato in the historic town of Hamilton. Nearby, there are restaurants, golf courses and several quality local hotels with shuttle service available.
To get a quote for renting portions of our facility call 415-475-5000 and ask for the Facility Rental department or email events@unityinmarin.org.
The spaces available to rent include:
Entrance to the Sanctuary can be used for registration.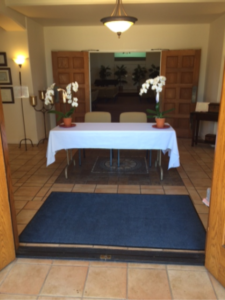 The Sanctuary (up to 300 persons)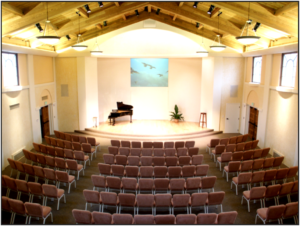 Flexible seating allows for many different room layouts.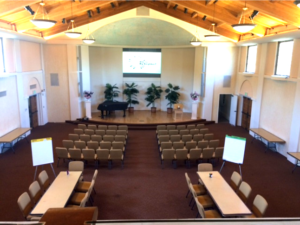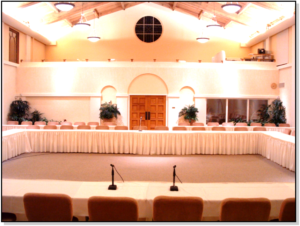 Unity Hall (up to 100 persons)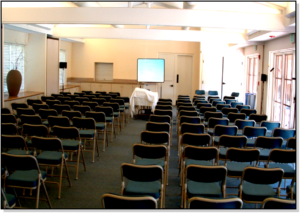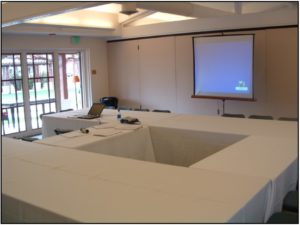 The Courtyard (up to 400 persons)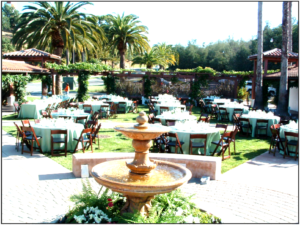 Features
Equipped with a full commercial kitchen, we can handle all the details for food and beverage service through one of our preferred vendors.
Wi-Fi internet access
Audio Visual equipment is available for all meeting rooms, but the Sanctuary's 10 ft. rear projection multimedia screen with data show, DVD play-back truly makes a big impression.
Whether it's one presenter or a full stage production, our state-of-the-art audio equipment and expert engineers see to it that each person can hear clearly.
Our on-site digital video and audio recording can help you get the most out of your meeting by capturing it's content for distribution, evaluation or sale.
Live Streaming on the internet is also available.
For more information, visit us on the web at:
www.unityinmarin.com/events