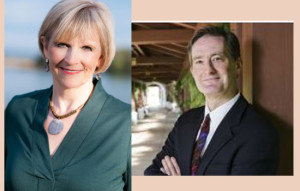 Tom McAuliffe- I have been a member of Unity In Marin since 1988. After spending a year sitting in the back row of the sanctuary, I began my service ministry as an usher. Over the years I have been involved in or have had leadership roles in various service initiatives including fundraising, men's groups, and campus work parties. I served on the Board of Trustees from 2007 to 2014 and was Board president for many of those years. I love to teach others the Unity Principles that have so inspired me. I taught the 4T prosperity class from 2003 to 2014, as well as the Mastermind Prayer Process. Currently I lead the mindfulness meditation class on Monday evenings. If I have any real gift to offer, it is to see beyond apparent limitations to the true beauty, power and light within us all.
Linda Anderson Henry, MBA- Linda Anderson Henry, MBA, is a business coach & financial mentor. She specializes in working with entrepreneurs, professionals, and leaders who want to express their true potential: personally, professionally, & financially.
Based on over 25 years of experience working with many types of businesses, she weaves together powerful Spiritual, financial, and business principles and practices in a way that is practical and profound.
Linda is a long-time member and former CFO for Unity In Marin.