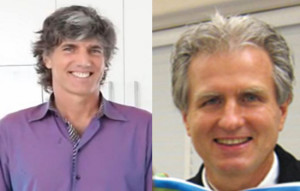 1)  STEVE ADLER:
TOPIC: WHAT MAKES SOMETHING ALIVE?" 
If the universe is alive, what are the characteristics that make it so?  How can we know if something is alive or dead?  How can we perceive aliveness better and align ourselves more fully with it? 
2)  ROBERT MOOREHEAD:
TOPIC: Community, Spirit, Science & the Tipping Point in our Community. How do we, as individual souls, converge to support emergence of the greater unity required for transformative change?
Steve Adler:
Steve Adler, M.S., D.D. (Doctor of Divinity), AKA "Sacred Steve", is an ordained minister and chaplain in Spiritis Church.  Steve also holds a bachelor's degree in mechanical engineering and a master's degree in aerospace engineering from Stanford University. 
Inspired by the works of Glenda Green (www.LoveWithoutEnd.com), Steve's mission is to teach humanity about the power of the Sacred Heart and the true relationship between the mind and the Sacred Heart.  He believes that one powerful stepping stone to empowering the Sacred Heart is through the raw food diet.  Initially inspired by Anthony Robbins, Steve's interest in raw foods grew in the 1990's culminating in the creation of NatuRAW, an online store focused on the Raw Food lifestyle.
Today, Steve is the creator of the highest quality RAW chocolate in the world - Sacred Chocolate®, an exceptionally flavorful superfood.   according to Steve, the most important aspect of Sacred Chocolate® is that it is made with Love & Gratitude.  Sacred Steve prays over each and every batch of Sacred Chocolate with the goal that Sacred Chocolate becomes a sacrament to assist in humanity's ascension on all levels.  He gives thanks to all who have made the amazing superfood known as chocolate available to humanity.
When he's not experimenting with new recipes, Sacred Steve loves to spend his free time with his family, lecturing and meditating on the miraculous power of the Sacred Heart, and communing with Nature.  Sacred Steve has always held a vision of Mother Earth covered in luscious fruit trees.  As a result Sacred Chocolate® supports the Fruit Tree Planting Foundation. (www.FTPF.org).
Robert Moorehead:
We are at a "convergence point" in the evolution of our species and the planet. While the critical issues we face are growing in complexity, greater consciousness is emerging.
As we explore the universe as the living body of Divine Being, what does this convergence mean in regard to our community? Is the soul like a cell in the body of sacred community? Is this an idea we doubt, one we have, or is it an inner felt experience, a knowingness? 
And if we are inhabiting the community as divinity, how do we relate to it? Are we in silos of separate inquiry and action? As visionary leaders and citizens how are we moving together? How can we co-create and support the emergence of a greater unity as conscious souls?
What does a "tipping point" for transformative consciousness and change look like? Join us in this exploration as we begin to weave a path of spirit, the sciences, and inquiry into greater wholeness.
BIO:
Robert Moorehead has worked in nonprofit and business marketing, strategic planning, and product, program, and organizational development for thirty-five years. He is a senior student of AH Almaas and the Diamond Approach, and is a board member of Unity in Marin.
While getting his Masters Degree in Organizational Systems and Leadership Transformation, he is currently working with a team of cohorts in birthing Community Wisdom in Action, a nonprofit vehicle to explore and co-create with others a tipping point pathway for community involvement and transformative change. Robert enjoys living in the beauty of Marin County.