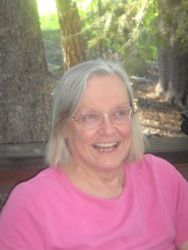 Melanie Carter came to Unity in May of 2000.  Melanie grew up in Illinois a student of Christian Science, attended Community Congregational Church in Tiburon for several years. She then attended Golden Gate church for 10 years where she took a year of Practitioner training before coming to Unity. She did master\'s work in Community Development at Southern Illinois University, and in Consciousness Studies, Religion, Mysticism and Parapsychology at John F. Kennedy University. She has a California teaching credential from San Francisco State and taught in San Francisco.
An emeritus Chaplain, she was a Prayer Chaplain for eight years and is on the Spiritual Counseling team for the last six years. She has served as co-leader of the Remembering Loved Ones Grief circle for five years and has been a choir member for the last 10 years. She conducts an Elder Women\'s Book Study group on Weds. mornings and has led Bill\'s Healing group. She loves how Unity parties and doesn\'t miss an opportunity to dress up, often as the Statue of Liberty.
She is a certified Jin Shin Jyutsu practitioner in practice for the last five years with more than 400 hours of training.  This hands on healing modality utilizies the gentle touch of her jumper cable hands to remind her clients where to release and allow the flow of the Divine to heal their body, mind and spirit. She is certified to teach JSJ Self Help classes and has been teaching a regular class on Thursday mornings at Unity this Spring.  Classes will resume September 26th.