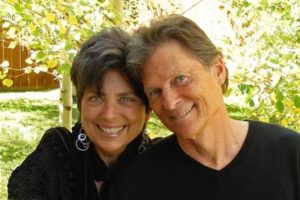 Jan Garrett and JD Martin are multi-award-winning singer songwriters who live and create their music in the mountains of Colorado near Aspen.  Both are seasoned performers and creative guides who teach with a twinkle, and inspire by example.  Their music is described as "Rich and intelligent, a velvet-hammer wake-up call as satisfying to the soul as it is to the ear….a deep and exhilarating trip into the Heart of Harmony."
JD Martin has written 5 Number One, and 10 Top Ten, country and pop hit singles, and his songs have been recorded by such luminaries Reba McEntire, B.J. Thomas, Peter Cetera, Atlantic Starr, and Kathy Mattea.  
Jan Garrett is a jazz singer with a poet's soul….a master music teacher, award winning songwriter, performance coach, wilderness vision quester, and (yes) Certified laughing Instructor who has toured with Steve Martin and John Denver, and has appeared on the Tonight Show and in Rolling Stone.
Together they have written and recorded 8 CDs of original music.  They have won multiple awards at the Positive Music Awards for many years running, and have been awarded the "Seal of Excellence" by the Positive Music Association.  All of Jan & JD's music is a collage of different musical styles and lyrical perspectives, all held together by the one thread that runs throughout: The language and harmony of the Heart.  
www.Garrett-Martin.com