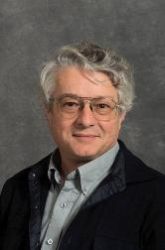 Donn has had a felt connection with God from as far back as he can remember, perhaps to age four. He grew up in a loving family with 2 younger brothers in Oregon and California. His father, by then a professor at UC Davis, was appointed as a foreign advisor in Pakistan just as Donn was graduating from high school, and travelling with his family there, his eyes were opened to a broader world of wildly different cultures, languages and peoples, shifting his established interest in biology and science to anthropology and societies, which he later studied in college. Donn returned to the Indian subcontinent for 2 years on his own in the Peace Corps, and spent several months in China and Japan on the way back, where he was trained briefly but intensely in Zen Buddhism. These formative experiences shaped Donn and his spiritual practice to this day.
Having worked for many years in the University of California system doing scientific computing, including work for Nobel winner Stanley Prusiner, work in the Human Genome Project at Lawrence Berkeley Laboratory and the UC Cancer Center, in 2002 Donn chose to change to a career in which he could "do something for the environment". He trained himself in green building and energy performance & auditing, and became vice-president of Sustainable Novato. Donn also served as member and chairman of the Marinwood Community Services District, where he lived and reared a son, Dan, now 29.
Donn now lives with his wife Nancy Foster and a part-time foster son from St. Vincents' school, in Novato. He has so far offered classes in Practical Mysticism and Science & Spirituality. He has led the Unity usher corps and the Welcome Team, served 4 years as a Unity Chaplain and as a Sunday school teacher. Donn currently is Unity's Sacred Service volunteer recruiter and he leads The Word sector in the Education department. Donn's spiritual practice has long centered on three things: Presence, Gratitude, and Not-knowing. He plans to write and develop curricula on these subjects and others.