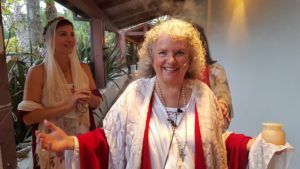 She has been involved with New Thought churches since the early 70's—either as a member of a Science of Mind Church or Unity. Since 2005, she has been an active member of Unity In Marin and a prayer chaplain since 2014. She received a master's degree in Clinical Psychology. Her master's thesis was on the impact of Eastern Religions on Transformative Psychotherapy.
Ordained as a Priestess of the Lyceum of Sophia, which provides her with legal status as a Reverend in the State of California. She was ordained by Lady Olivia at Isis Oasis Temple and Elizabeth Kelley. In addition to the Lyceum of Sophia, Elizabeth Kelley is an ordained Priestess from the Holy Order of Mary Magdalene originating in Southern France. The Order claims succession from Mary Magdalene herself and has survived, mostly in secret, by the careful selection of candidates and until recently ordaining only women. You can learn more about the order at http://gnosticsanctuary.org/lineage.html
She offers regular Divine Feminine talks and book-studies on the Gospel of Mary. Since 2011 when she first envisioned the annually Moonrise Service, where she along with other scholars like Dr. Marguerite Rigoglioso, Elizabeth Kelley, etc. tell the story of Easter through Mary Magdalene's eyes. Over 200 people participate in walking the six-station ritual of Mary's journey from the anointing to her realization of her oneness with God while sacred music is playing. Many people are moved to tears. Christy discovered in Mark 14 v 9 that Jesus predicted that there would come a time when Mary would be remembered and discussed for what she has done.
Christy is a serious student of A Course In Miracle(ACIM) since 1998. It was during her study of the Gnostic texts and (ACIM) that she discovered that there were passages that were word for word in A Course In Miracles and in Gnostic text of the Gospel of Mary Magdalene and Gospel of Thomas, showing the original intent.
She lives in Marin County and travels teaching and offering seminars on a variety of topics on Divine Feminine and Mary Magdalene. One of her more popular ones is called "Ancient Mystic Women Who Seeded the Ideas of Consciousness Evolution."