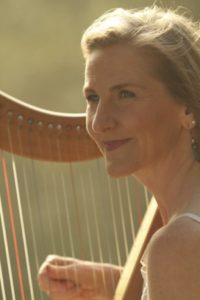 Christine Tulis is a healing artist, harpist, singer, mystic and award-winning composer exploring the spiritual and healing qualities of the harp and the power of music and the healing arts to connect us to our hearts and inspired states of being.
Her music is created out of a deep love of the harp and its archetypal role as a link between heaven and earth. She is devoted to creating musical experiences that open inner gateways and support spiritual awakening. Christine began playing the harp after a life changing spiritual experience the first time she heard the instrument live.
In addition to her musical pursuits Christine is an extraordinary healing artist whose sessions include therapeutic massage and bodywork, Master level Reiki energy healing, sound and the ancient, spiritual healing art of Anointing with Holy Oils.
Her sessions are nationally renowned for their transformational effects. Please visit the Healing Session Info page to learn more.
Christine has played her inspired music internationally including at two United Nations events, Chartres Cathedral, France, Grace Cathedral, San Francisco, as well as numerous spiritual seminars, holistic health events and sacred spaces in the U.S. and Canada. Her music has been featured on television and radio and is played in healing centers across the nation.
The harp has been played throughout history to facilitate healing, access spiritual vision and connect with the celestial and angelic realms. Christine feels a deep resonance with this ancient, sacred lineage focused on the transformational and healing powers of the harp. Her songs feature spiritually uplifting lyrics originating from her inner experiences or inspired by the poetry of Rumi and other mystic saints. Christine's passion is to use her gifts to assist people in transforming their lives through the power of Love, Beauty and Grace.