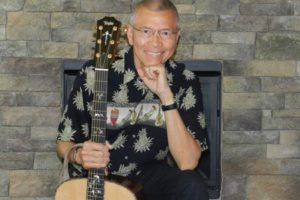 Arthur was born in April 1942 in Manila, Philippines.  He came to the U.S. in 1960, at the age of 18, to live with his father in San Francisco.  He went to school at the University of San Francisco and studied Liberal Arts with a major in Drama.  Throughout school he worked in a Ford car dealership as a salesperson and later became the manager.  In 1978 he switched careers and went into real estate, which he continues to do today.
Arthur learned to play the guitar on his own when he was 16, and never learned to read music.  His dream was to play the guitar in Europe.  His first trip abroad was with his wife and 2 daughters in 2006, when he performed in Jettingen, Germany.  At that time he told his wife that he wanted to play the guitar again in Europe, without the family, like a traveling minstrel. In 2009, he went to Valencia, Spain, then Barcelona, Nice, and Monaco.  From there he continued on to Italy, and performed in Genoa, Lucca, and Florence, Rome, Positano on the Amalfi Coast, and finally Sorrento.  He loved Italy so much that he wanted to sing songs in Italian, so he learned the language and Italian songs.
From 2004 to the present, Arthur and his wife have lived in Novato. Since 2006 he has volunteered 4-5 times a month for Bread and Roses, a non-profit organization in Corte Madera that provides live music and entertainment to people who are isolated in facilities such as Alzheimer's centers, elderly care establishments, hospitals for terminally ill children, and so on.  He also performs at private events around the Bay Area, at local restaurants, and at wineries in Sonoma County.