The Quantum Tamers
Thursday, February 23rd
7:00 PM - 9:00 PM
Sanctuary
A Marin Noetic Sciences Event!

The Quantum Tamers is a documentary video that covers the very interesting history and implications of the Quantum World on our understanding of reality.  Also described are many open puzzles and challenges to using the quantum sciences for practical ends; e.g. quantum computing and communications.  This film is an excellent over-view for those somewhat familiar with Quantum Physics, and wanting to have a better grasp of the principle ideas!
Film is one hour.  Arrive early to socialize; discussion and food following the program.
Sponsored by: Marin Community Group of Noetic Sciences
Bring snack or drink to share.
For information about Noetic Sciences, see www.IONS.org
Cost: $10
Location: Sanctuary
Contact: Pat Palmer
Email Contact: everevolving@earthlink.net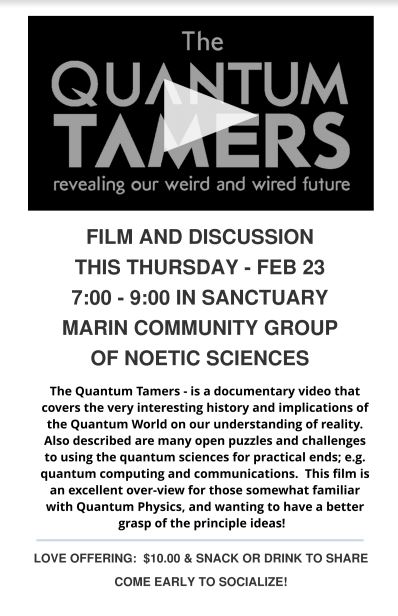 View and Download a PDF of the Flyer