Scott Grace: Uplifting Music
Wednesday, April 19th
7:15 PM - 8:15 PM
Unity Hall
A Musical Spring Cleaning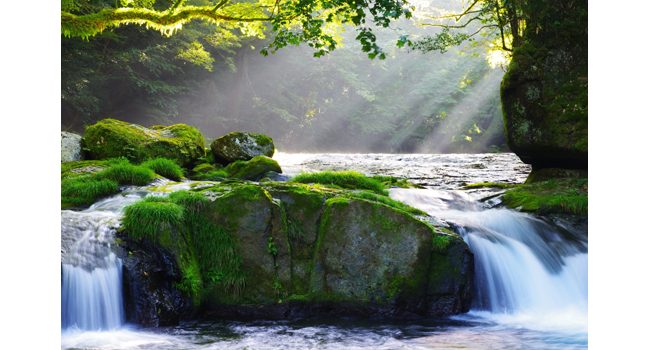 It's time for a spring cleaning, is it not?
We are always letting go of what has died during our winter and saying hello to what is growing and blossoming within our spring.
When we can name what we are letting go, and what we are saying hello to that is putting a spring in our steps, we can have more compassion for our letting go, as well as more willingness to embrace the newness of the spring.
Through songs born in the moment, Scott Grace will create a safe space where this can be done with grace and ease.
Cost: Love Offering
Location: Unity Hall
Contact: Lisa Starbird
Email Contact: lstarbird@aol.com
Presented By: Lisa Starbird -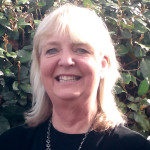 Event Producer, facilitator, teacher, presenter, worship assistant, stage manager, Lisa Starbird is an active volunteer in many areas at Unity In Marin. Why? She says, "Unity In Marin supports practical spirituality and the path of healing and growing, which aligns with my personal vision to give back and support that which inspires me."
Lisa is the Wednesday Service Coordinator working with a dedicated team and she supports all aspects of the diverse weekly services which includes sound healings, music nights, deeper dialogues and community testimonials. She is also on the Ministry Leadership and Celebration Teams that oversees the detailed logistics for the community including all services and events.
Other roles for Lisa at UIM have included: Unity Prayer Chaplain for six years, facilitating Remembering Loved Ones (a loss and grief group), member of the UIM choir and soloist, assistant to Rev. Bill for the Resolutions to Realities class, teacher of Rev. Michael Beckwith's Visioning Process and support of the Family Ministry Team.
She is also a current volunteer with Insight Prison Project. At San Quentin state prison she facilitates a weekly men's group, saying that this work is an experience like no other. Lisa thrives on making a difference every day and continues to learn valuable lessons both as a student and a teacher.

. . . Read More
Musical Guest: Scott Grace - Musician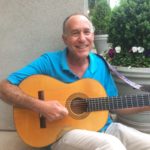 Scott Kalechstein Grace is a writer/coach/comedian/speaker, as well as a singer/songwriter/recording artist/minister and workshop leader. He is known for his unique ability to spontaneously create songs about any topic presented. Born and raised in Brooklyn, Scott started studying classical music at age seven with the violin. As a teen, he rebelled against classical violin in favor of jazz and rock n roll guitar. In college he did a lot of spiritual searching, which led him to A Course In Miracles, psychotherapy, the 12 Steps, a plethora of self-improvement workshops, rebirthing, meditation, and other activities of self-discovery. During that time he began to write and sing songs about personal and planetary transformation.
Currently Scott has nine compact discs being distributed internationally. He travels as a transformational troubadour, giving inspirational talks sweetened with music. He has performed at the presentations of thought leaders such as Deepak Chopra, Marianne Williamson, Alan Cohen, Byron Katie, Jack Canfield, John Gray, Bernie Siegel, and Barbara DeAngelis. Scott also conducts a variety of workshops of his own. In such   events, he spontaneously improvises original songs to take the messages from an intellectual understanding to a heartfelt emotional level. Please see Scott's website at www.scottsongs.com. . . . Read More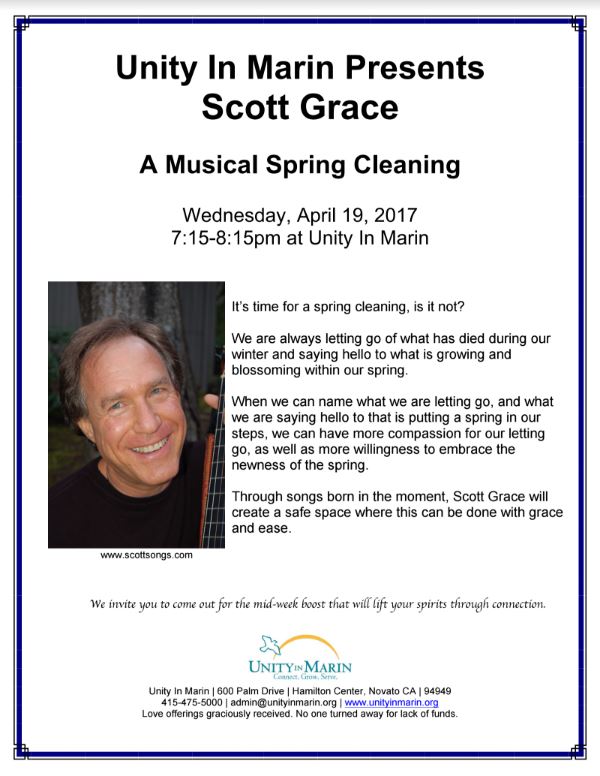 View and Download a PDF of the Flyer