NGU Presents: The Girls of Daraja Movies PLUS Meet & Greet the founders of Daraja Academy!
Friday, April 11th
7:00 PM - 9:00 PM
Sanctuary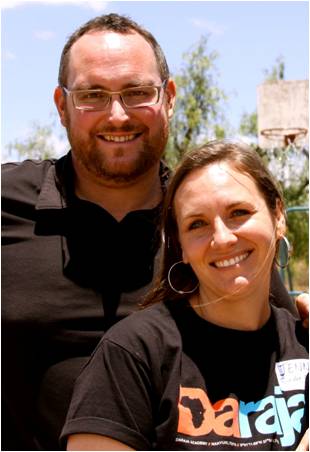 Please join us in viewing The Girls of Daraja films, (exec. producer Deborah Santana).
Jason and Jenni Doherty, Founders of Daraja Academy in Kenya, are giving a Q & A session after the viewings.
Jason: "I fell in love with East Africa and Kenya, specifically, after visiting with my family in
the 1980's. After graduating from University of San Diego, I moved to Tanzania, where I lived at a secondary school. I witnessed how devoted the students were to their education. Though I returned to California, earning my teacher credentials, and met my wife, Jenni, dreams of returning to Africa never left for very long. Those dreams, Jenni's talents, and the belief of thousands of others are the seeds that became Daraja Academy. Personally, Daraja Academy is a dream come true. Every day I see proof that individuals can make the world a better place. Never before have I witnessed such cooperation and the desire to improve as I have among the teachers and students of Daraja Academy."
Jenni: "I graduated from Sonoma State University in 2004 with a BA in English Literature.
I put my education to use as a Research Associate at WestEd, an educational consulting firm based in San Francisco, California. I was directly involved in the planning, execution, and evaluation of several research projects for the California Department of Education Child Development Division. In 2008, I moved with my husband, Jason, to Kenya to start Daraja Academy. As the first woman in my family to graduate from university, I value my education and want to share that opportunity with all the women that I encounter. I get to fulfill this desire as I work with the students, staff, and partners of Daraja Academy. This project is truly my life's work and I look forward to each day that I get to work with my amazing husband, the incredible Daraja Girls, the dedicated staff, and the passionate supporters of this program."
Cost: Suggested Love Offering (Donation) $10
Location: Sanctuary
Contact: Stephanie Listug
Email Contact: nextgenuim@gmail.com