Magdalene Easter Moonrise Celebration
Sunday, April 16th
7:00 PM - 9:30 PM
Sanctuary
Telling the story of Easter thru Mary Magdalene's Eyes and Beyond for She Rose, too!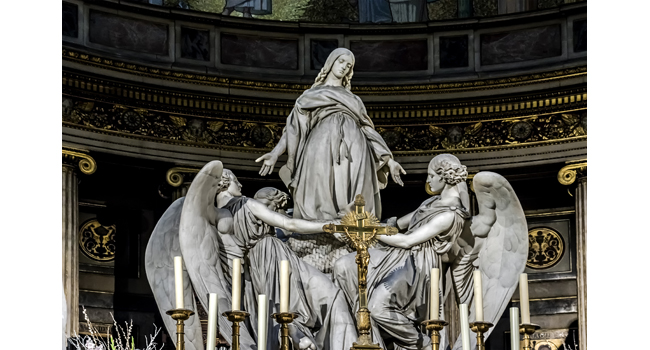 This special Magdalene Moonrise Celebration, helps to fulfill a Biblical prophecy that "She would be remembered and discussed for what she has done." - Mathew 26:13 and Mark 14:7. We explore thru Mary Magdalene's eyes, her experiences starting with the anointing leading up to the Resurrection. A time such as now needs the understanding of their sacred partnership which modeled the "Awakened Feminine and Masculine."  
This celebration is based on the Bible, the Gospel of Mary Magdalene and Thomas, the Pistis Sophia, the Infancy of James, Episcopalian Priest, Cynthia Bourgeault's book The Meaning of Mary Magdalene and A Course In Miracles and the changes in recent times.  Pope Francis has now declared her the Apostle to the Apostles.
They say she experienced an "Assumption" (which means Resurrection, according to the dictionary.)
Carried back in time we deepen our understanding of Mary Magdalene's important leadership role and experience her journey through Easter Holy Week.
Featured guest presenters:
Marguerite Rigoglioso, Ph.D.,
Founder of www.sevensistersmysteryschool.com
Dan Craig-Morse, M.A.
&
Rev. Priestess Christy Michaels, M.A.
www.gospelofmarymagdalene.info
We weave in the stories from our scholars with the sacred music and dance ending in a live inter-active six station ritual; as we walk together the path of Mary Magdalene. Starting with her anointing of the Christ to the Resurrection and beyond to Her own Assumption(Resurrection), we experience the stories of
Easter through Mary Magdalene's eyes.    
Share in the joy with amazing sacred music, singing and dancing with Unity In Marin's favorite singers and musicians:
Christine Tulis on Celtic Harp
Christine Tulis and Kem Stone have forged a musical partnership based on a mutual love of sacred and healing music. Their celestial, spiritually evocative music blends Christine's crystalline voice and Celtic harp with Kem's keyboard and world percussion mastery.
Desiree Goyette-Bogas, and her daughter Lily Bogas,
Singing a special tribute to Magdalene written by Desiree.
Désirée Goyette and her daughter Lily Nichole Bogas both enjoy communicating spiritual ideas through song. A seasoned singer-songwriter, Grammy-nominated Desiree has performed on television, radio, Carnegie Hall, and various Cabaret venues. Lily is a budding musical theatre artist having performed in several theatrical productions and is currently a member of the ACT Teen Cabaret Ensemble. They are honored to be sharing in this special Easter Moonrise Service.
Denise Ruelas, Pianist and Violinist
Denise Ruelas has been playing piano since about the age of 4 and has been a member of this congregation since about 2000.  She sings and participates in and occasionally directs choirs at various new thought churches including on an interim basis at Unity in Marin.  She also plays violin in symphonies and chamber groups.  Her favorite genre is devotional songs, where the vibration of harmonious music and sweet words repeat to create soul awakening, healing and boundless joy.  She also enjoys teaching piano and yoga
Lead Singers:
Andoni Panici, Sabenah Elizabeth, Jan Cercone and Sophia Songhealer will sing, with and with special guest vocalist Caroluna.  
Gospel singers: Ami Gaston, and Noel Thomas, Gospel singing friends will open our hearts to the deep celebration of passion that Gospel music brings so well.
The Illumina dancers, led by Ilona Marshal, Karen La Puma, Jenna Cohen and Andrea Lauren help tell her story and give expression to the many facets of the Divine Feminine expressed in the Magdalene story.  
We open with an invocation of the Divine Mother by all faiths with:

Rita Sahai www.ritasahai.com representing the Divine Mother's presence and essence from India Hindu tradition. Rita's bio http://ritasahai.com/biography/
Beatrice Johnson from Muslin faith, which honors Mother Mary,
Celestine Star, who honors the Black Madonna and
Harriet Kirkland is holding the Icon of the African American Mother
Gospel Singer Ami Gaston who honors Mother Earth.
A special welcome and knighting blessing to Rev. Patrick McCollum  will be made by Michael and Diana Melchizedek for his courage at Standing Rock.  
Patrick is considered a true saint who is well known to the people in India.  He was invited as a guest officiant at the Yoga Kumbha Mela which was attended by several the foremost Spiritual and Yoga Masters from around the world, including an estimated 75,000 people from 110 countries.
Violinist Denise Ruelas, will play the Peace violin which is claimed as a national treasure by the Smithsonian Institute.
Diana Sa'Ra Melchizedek, High Priestess in the Order of Melchizedek, teacher, healer, empath, spiritual guide, clear and gifted channel for Divine Mother and founder of the World Mother Priestess Training Program.
Michael Sunbear Melchizedek, High Priest in the Order of Melchizedek, empath, gifted clairvoyant, psychic medium, and medical intuitive. They bring a beautiful balance of the Divine Feminine and Divine Masculine in their work together and offer classes and counseling on Sacred Relationship & Enlightened Partnership. In addition, as Ambassadors and members of the Galactic High Council they have been asked to begin offering Ascension Tools and Lightbody Activations for those on track for first and second wave Ascension. For more info please contact them at 415-715-9163 or dianamelchizedek@gmail.com
Lastly Sacred 6 station ritual
We all walk together in her footsteps, the sacred 6-station ritual, receiving many blessings.  We start with the first station – Anointing with Spikenard from Jerusalem.
Last Supper station #2 – represents the Hieros Gamos Sacred Union of the Divine male and female becoming whole and integrated as One.
3rd Station is the Cross where we pull the nails out of the cross dissolving the idea of crucifixion and separation.  
The 4th station is the Forgiveness altar where one receives a forgiveness blessing as rose petals are tossed on your head and you pull A Course In Miracle Forgiveness Card.  
The 5th station is the Empty Tomb where there is no body for we are spirit.  Here your heart is anointed for hear you understand the Beloved you seek lives within.  
Finally, the 6th station the Gates of Heaven.  You receive a water blessing and sound bath of blessing for now we experience HEAVEN ON EARTH! BLESSED BE!  
More info and discount online tickets at www.unityinmarin.org/events or at www.gospelofmarymagdalene.info  or Call Christy Michaels 415-879-0155
Click here to buy discount ticket to view archived video… ---> Magdalene Moonrise Easter Celebration
Cost: $20 advance / Suggested Love offering $25 (no one turned away for lack of funds)
Location: Sanctuary
Contact: Christy Michaels
Email Contact: grace444christy@gmail.com
Event Website
Presented By: Priestess, Rev. Christy Michaels, M.A -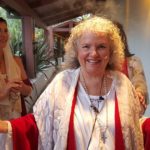 She has been involved with New Thought churches since the early 70's—either as a member of a Science of Mind Church or Unity. Since 2005, she has been an active member of Unity In Marin and a prayer chaplain since 2014. She received a master's degree in Clinical Psychology. Her master's thesis was on the impact of Eastern Religions on Transformative Psychotherapy.
Ordained as a Priestess of the Lyceum of Sophia, which provides her with legal status as a Reverend in the State of California. She was ordained by Lady Olivia at Isis Oasis Temple and Elizabeth Kelley. In addition to the Lyceum of Sophia, Elizabeth Kelley is an ordained Priestess from the Holy Order of Mary Magdalene originating in Southern France. The Order claims succession from Mary Magdalene herself and has survived, mostly in secret, by the careful selection of candidates and until recently ordaining only women. You can learn more about the order at http://gnosticsanctuary.org/lineage.html
She offers regular Divine Feminine talks and book-studies on the Gospel of Mary. Since 2011 when she first envisioned the annually Moonrise Service, where she along with other scholars like Dr. Marguerite Rigoglioso, Elizabeth Kelley, etc. tell the story of Easter through Mary Magdalene's eyes. Over 200 people participate in walking the six-station ritual of Mary's journey from the anointing to her realization of her oneness with God while sacred music is playing. Many people are moved to tears. Christy discovered in Mark 14 v 9 that Jesus predicted that there would come a time when Mary would be remembered and discussed for what she has done.
Christy is a serious student of A Course In Miracle(ACIM) since 1998. It was during her study of the Gnostic texts and (ACIM) that she discovered that there were passages that were word for word in A Course In Miracles and in Gnostic text of the Gospel of Mary Magdalene and Gospel of Thomas, showing the original intent.
She lives in Marin County and travels teaching and offering seminars on a variety of topics on Divine Feminine and Mary Magdalene. One of her more popular ones is called "Ancient Mystic Women Who Seeded the Ideas of Consciousness Evolution." . . . Read More
Also Presented By: Dan Craig-Morse, M.A. -
MFT has been studying and lecturing on the mysteries of pre-Roman Gnostic Christianity since presenting The Story of Sophia for his Master's Thesis at the University of Creation Spirituality in 1998.  Dan offers counseling and resources of support at various venues in the North Bay, that works with depth and transpersonal psychology along new paradigm, "5D" spirituality.  See 5dCounseling.com
Led By: Patrick McCollum -

Reverend Patrick McCollum (born April 11, 1950) is an interfaith chaplain, spiritual mentor, and peace counselor.
Rev. McCollum was initiated in 1966 and ordained by the Cauldron of Cerridwen in 1971, by Covenant of the Goddess in 1987, and by Circle Sanctuary [1] in 2001, and has been ordained and/or endorsed by several other Pagan organizations, including the National Prison Kindred and Irminsul. He serves as the National Prison Chaplaincy Affairs Coordinator for the Lady Liberty League, and is the Director of Public Chaplaincy for Cherry Hill Seminary.
In 1997, after the settlement of a case involving a Wiccan inmate, the California Attorney General's Office asked Rev. McCollum to serve as a Wiccan chaplain, making him the first government-recognized Wiccan chaplain.[3] Subsequently, he has served as a statewide correctional chaplain for the California Department of Corrections and Rehabilitation. . . . Read More
Guest Speaker: Marguerite Rigoglioso, Ph.D -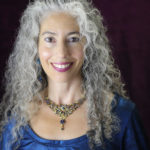 Marguerite Rigoglioso, Ph.D., is the founding director of Seven Sisters Mystery School and a scholar/practitioner of the ancient Mediterranean mystery traditions. She is the author of The Cult of Divine Birth in Ancient Greece and Virgin Mother Goddesses of Antiquity, pioneering volumes emerging from her doctoral dissertation at the California Institute of Integral Studies that explore women's shamanic abilities in a (r)evolutionary new light.
She teaches unique and leading-edge courses on the sacred feminine and women's spiritual leadership at the California Institute of Integral Studies, Sofia University (formerly Institute of Transpersonal Psychology), and Dominican University of California.
Her research on female deities and women's religious leadership in the ancient
Mediterranean world and beyond has appeared in anthologies and journals,
including Feminist Theology, The Encyclopedia of Religion and Nature, Societies of Peace, She Is Everywhere, Trivia, and the Journal of Feminist Studies in Religion, where her paper on the cult of Demeter and Persephone in Sicily received an honorable mention for the New Scholar Award. She is also the editor of Where to Publish Articles on Women's Studies, Feminist Religious Studies, and Feminist/Womanist Topics 2008.
A speaker at conferences and numerous public venues around the world, in 2009 she delivered a James C. Loeb Classical lecture at Harvard University on her research. She is also a featured interviewee in the films The Vanishing of the Bees and The Search for Local Honey.
Marguerite combines lifelong study of the religious history of the ancient Mediterranean world and beyond with her own spiritual growth work and intuitional skills, which have been cultivated through years of ceremonial practice as well as intensive study at the Foundation for Spiritual Development in San Rafael, CA. She has been a professional freelance writer for the past 25 years, as well, working for clients such as Harvard, Stanford, UC Berkeley, Boston University, and numerous nonprofits, businesses, and authors.... Read More
Guest Speaker: Désirée Goyette Bogas and Lily Nichole Bogas -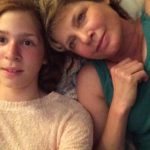 Désirée Goyette Bogas and her daughter Lily Nichole Bogas both enjoy communicating spiritual ideas through song. A seasoned singer-songwriter, Grammy-nominated Desiree has performed on television, radio, Carnegie Hall, and various Cabaret venues. Lily is a budding musical theatre artist having performed in several theatrical productions and is currently a member of the ACT Teen Cabaret Ensemble.
Musical Guest: Denise Ruelas - Pianist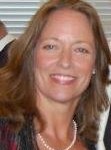 Denise has been playing piano since about the age of 4 and has been a member of this congregation since about 2000.  She sings and participates in and occasionally directs choirs at various new thought churches including on an interim basis at Unity in Marin.  She also plays violin in symphonies and chamber groups.  Her favorite genre is devotional songs, where the vibration of harmonious music and sweet words repeat to create soul awakening, healing and boundless joy.  She also enjoys teaching piano and yoga. . . . Read More
Musical Guest: Christine Tulis & Kem Stone - Musician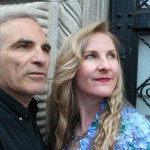 Christine Tulis and Kem Stone have forged a musical partnership based on a mutual love of sacred and healing music. Their celestial, spiritually evocative music blends Christine's crystalline voice and Celtic harp with Kem's keyboard and world percussion mastery. Christine's songs feature inspired lyrics derived from the poetry of Rumi, writings of St. Teresa of Avila and her personal, inner experiences.
Christine and Kem have performed widely across the U.S. including a concert for peace at the United Nations. They are award-winning composers who have released two CD's and are currently at work on their third. They count themselves among a growing number of artists, healers and musicians co-creating a heart-centered, awakened culture. For more info on their
music and Christine's healing arts please visit www.christinetulis.com . . . Read More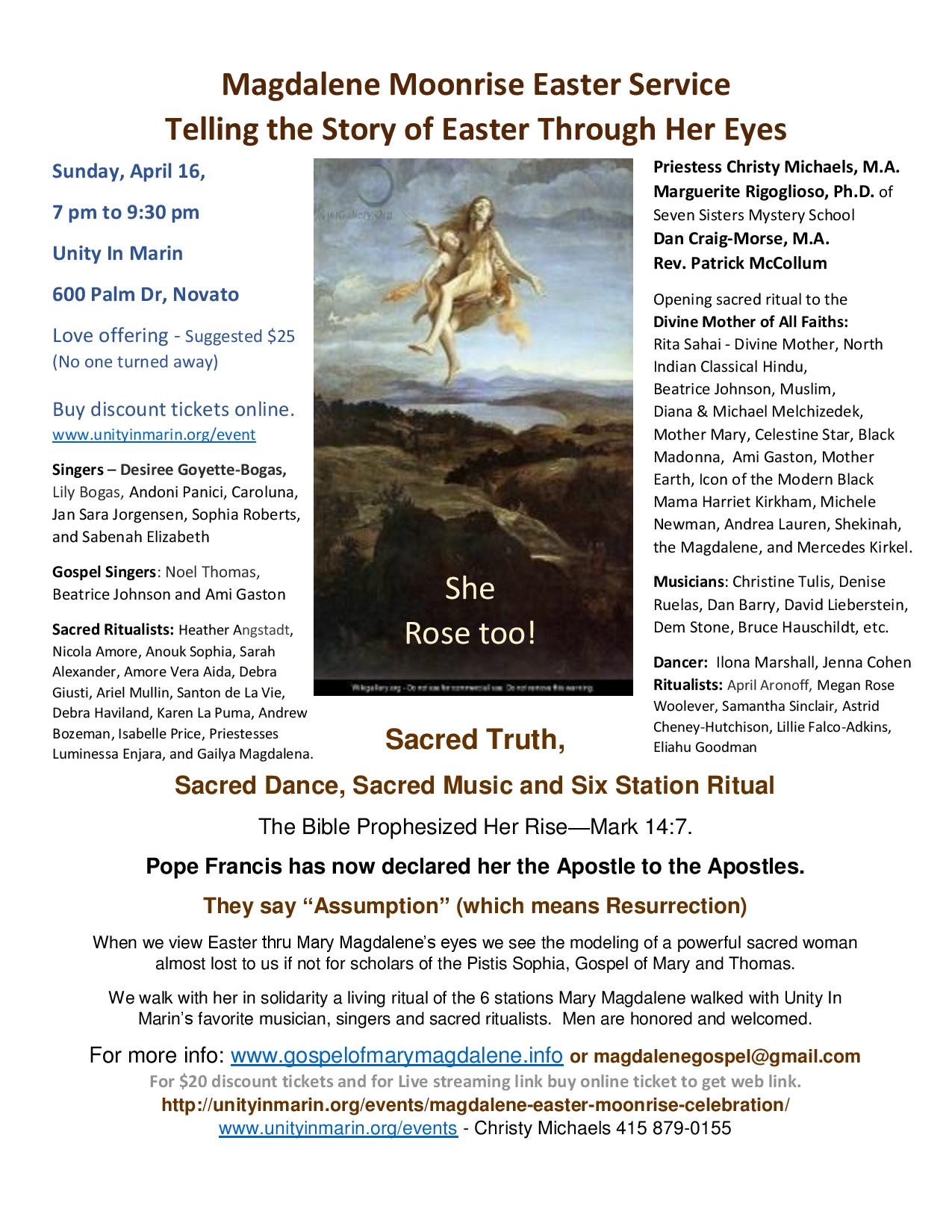 View and Download a PDF of the Flyer