Is There Life After Death?
Friday, September 15th
7:30 PM - 10:00 PM
Sanctuary
with Nancy Ryne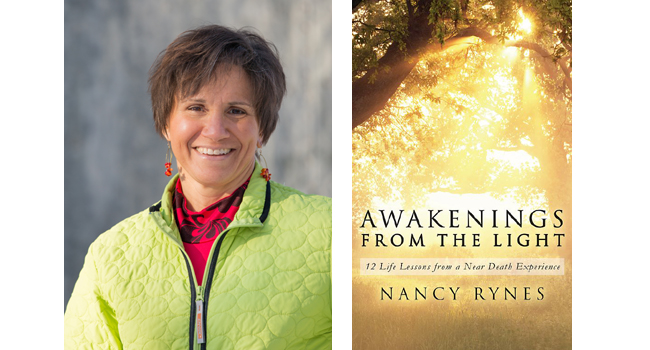 Nancy Rynes was a geologist, archeological artist, and science/tech writer.  She was an atheist.  As a scientist, she believed that reality consists of things one could measure-- and since spiritual matters were not measurable, they were not real.  
In January 2014 Nancy was riding her bicycle when a large SUV hit her.  The truck's   driver was absorbed in texting while driving, and did not see her. Nancy had severe spinal and head injuries, and she knew she was dying. To her amazement, her consciousness split between her frightened, injured self, lying on the road, and an impartial, peaceful observer-consciousness who watched as first responders fought to keep her alive.
During surgery to repair her spine, her vitals plummeted. She found herself surrounded by a beautiful landscape, and a feeling of "love, peace, and an abiding Presence that I will call Spirit or God."
"I felt a deep sense of… love flowing through all things around me: the air, the ground below my feet, the trees, the clouds, and me. I felt the love flowing around me, flowing through me, and eventually capturing me by the heart. I felt supported by a loving Presence so powerful, yet so gentle, that I cried…. I had never experienced such unconditional love and acceptance."
Nancy then met and spoke with a beautiful Being who gave her profound information about the meaning and purpose of life. The main teaching was about living with unconditional love and gratitude.  She was told that she had to go back to earth and she could share these teachings with others.  Nancy did not want to return, but it was made clear to her that this was part of her mission, to which she had agreed before she was born. Then she was returned to her body and began the long, slow process of recovering from the injuries that her surgeon said should have killed her.
Click here to buy a ticket! -->Is There Life After Death? with Nancy Rynes
Cost: $20/advance ~ $25/door
Location: Sanctuary
Contact: Sam Engle
Email Contact: samiamengle@aol.com
Guest Speaker: Nancy Rynes -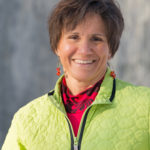 Nancy was born in 1966 and raised on a farm in northern Illinois.  Her family was Catholic, and Nancy had spiritual experiences that she associated with Catholicism.  However, by the time she was 12 years old, Nancy became disenchanted with the Catholic Church and became interested in the sciences.  By the time she was 18, until her NDE in 2014, she was an atheist.
Nancy studied at the American Academy of Art in Chicago and worked as an archeological artist.  She finished her Bachelors degree in 1992 at N. Illinois University in geology and archeology.  Then she earned a Masters degree in geology at the University of Colorado in Boulder in 1994.  For the next twenty years, Nancy worked as a writer and trainer in geology for government agencies and corporations.
In January 2014, Nancy had her life-changing accident and NDE.  It took her two years to recuperate, and during this time she again became interested in spiritual concerns and wrote her book about her NDE.  Currently she has also returned to scientific writing for the Veterans Administration and the military, with a focus on traumatic brain injuries.  ... Read More
Musical Guest: Arthur Javier -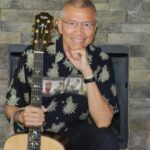 Arthur was born in April 1942 in Manila, Philippines.  He came to the U.S. in 1960, at the age of 18, to live with his father in San Francisco.  He went to school at the University of San Francisco and studied Liberal Arts with a major in Drama.  Throughout school he worked in a Ford car dealership as a salesperson and later became the manager.  In 1978 he switched careers and went into real estate, which he continues to do today.
Arthur learned to play the guitar on his own when he was 16, and never learned to read music.  His dream was to play the guitar in Europe.  His first trip abroad was with his wife and 2 daughters in 2006, when he performed in Jettingen, Germany.  At that time he told his wife that he wanted to play the guitar again in Europe, without the family, like a traveling minstrel. In 2009, he went to Valencia, Spain, then Barcelona, Nice, and Monaco.  From there he continued on to Italy, and performed in Genoa, Lucca, and Florence, Rome, Positano on the Amalfi Coast, and finally Sorrento.  He loved Italy so much that he wanted to sing songs in Italian, so he learned the language and Italian songs.
From 2004 to the present, Arthur and his wife have lived in Novato. Since 2006 he has volunteered 4-5 times a month for Bread and Roses, a non-profit organization in Corte Madera that provides live music and entertainment to people who are isolated in facilities such as Alzheimer's centers, elderly care establishments, hospitals for terminally ill children, and so on.  He also performs at private events around the Bay Area, at local restaurants, and at wineries in Sonoma County. . . . Read More