Girl Rising ~ Documentary Screening
Friday, October 11th
7:00 PM - 9:00 PM
Sanctuary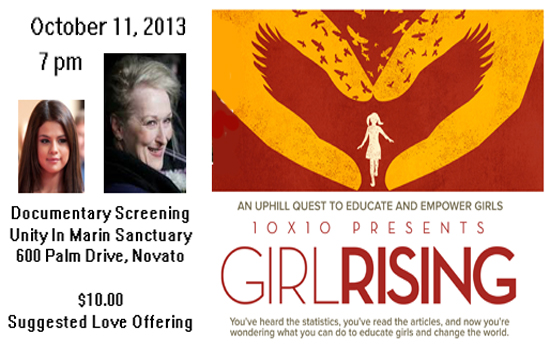 Around the world, millions of girls face barriers to education that boys do not. And yet, when you educate a girl you can break cycles of poverty in just one generation. Girl Rising is a groundbreaking film and part of a movement for girls' education.
Come Celebrate International Dayof the Girl with us. Find out how educating girls can change the world—and learn how YOU can make a difference. Your attendance will send a message: Investing in girls is not just the right thing to do, it's smart.
Educate girls, Change the World!
Girl Rising is a feature film narrated by Meryl Streep, Anne Hathaway, Selena Gomez and others that tells the stories of nine incredible girls across the globe. We are also a campaign and a community that believes investing in girls will bring about transformative change—for families, communities and nations. Using the power of storytelling and film, shared with and by people like you, we will spread the message that investing in girls benefits everyone.
Cost: $10.00 Suggested Love Offering
Location: Sanctuary