What Volunteering Means....
Sacred Service Angel of the Month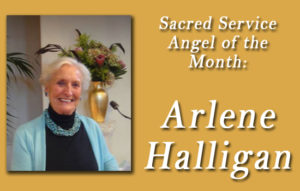 I joined UIM in 1985, when we had our services at the Masonic Lodge in Larkspur - we called it "the church in the box", as we had to set up and take down all the items for our service each Sunday.
My fist volunteer job was Volunteer Coordinator, finding volunteers for all the various assignments. Then I became involved in the fundraising for our new church at Hamilton, working with Patricia Keel. From that assignment, I became part of the Helping Hands/Loving Kindness, giving people rides to doctor appointments, etc. Also, we help with serving dinner to the homeless in San Rafael. I'm still doing that as well as being on the Welcome Team and working in the bookstore on the fifth Sunday of the month.
Volunteering at Unity in Marin is a gift to me - I have met some wonderful people, and it gives me great pleasure to serve.