What Volunteering Means....
Sacred Service Angel of the Month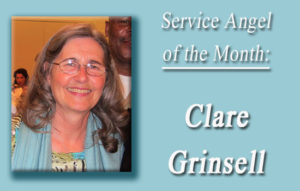 Why am I moved to volunteer at Unity? I believe that giving and receiving are the same, and live in gratitude as I connect and grow with you through sacred service. I experience Love and peace deep within my heart as I do. I live more authentically and feel fulfilled.
Thus I am committed to pray, sing, create, plan, organize, cook, host, study, engage, and play with passion among our spiritual community, with you. Thank you for your part in what we create together. And so it is. Amen and alleluia!
Read about Clare on our Board of Trustees Page: http://unityinmarin.org/about-unity-in-marin/board-of-trustees/