What Volunteering Means....

We at Unity love to connect, grow, and serve! Volunteering to assist with something you already love to do brings new friends and the joy of being of service. Service can mean helping at a single event, or a monthly commitment for one hour. Deepen your connections to our community and let us get to know you!
If you would like to chat about the possibilities, please visit the Welcome Table in the courtyard before or after services.
Sacred Service Angel of the Month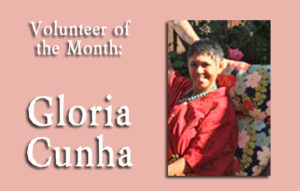 My very first experience of "Unity" was just about 2 years ago. I was literally "blown away", and knew I had finally found my "Spiritual Home"!
I then decided to schedule an appointment with Reverend Bill, to glean a better understanding of Unity principles. In that initial meeting, Reverend Bill also suggested "Volunteering" as a Great way to "get to know" the Unity In Marin Community. Since then, I have never looked back. Volunteering has been a sheer Delight. It has afforded me a most powerful means of "getting to know" so many congregants in our Beloved "Unity in Marin" Community. Literally, Volunteering at Unity in Marin has been Medicine for my Soul…nurturing and feeding my spirit profoundly. I am Truly Blessed! Thank You UIM.
Namaste', Gloria P. Cunha
To see details, apply, comment, or ask questions about a certain volunteer opening click the desired button below.
Usher Gardener Welcome Hub Member Flower Arranger
Current Volunteer Openings
Ushers
Gardeners
Welcome Hub
Flower Arranger
For more info contact:
Leave a comment