There are many opportunities for families to connect together; celebration, learning, planning, praying and supporting each other have given rise to several recurring activities. Parents and teachers also are encouraged to create adventures and new experiences for the families as well!
Parent/Teacher Brunches - quarterly in Unity Hall; 11:00 - 12:30
These eatin' meetins are occasions for evaluating existing programs and planning new ones. Everyone has a voice and ideas are welcomed and thoroughly explored. Child care is provided.
Family Activity Night - monthly in the courtyard and Unity Hall 5:30 - 7:30

Rev. Pat and some of the teachers take part with families who come to participate in these fun evenings. We have a potluck together - at a table in the courtyard if the weather is nice, and the children play when they are done eating. Dinner is followed by an activity that parents and children do together; e.g. making Thanksgiving placemats; creating 4th of July fake fireworks; playing a game; arts and crafts…
Rite of Passage - in the spring; 8th graders preparing for the YOU group
This is a series of Saturday classes about aspects of mental, spiritual and emotional health which the group of 8th graders studies with selected teachers/adults from the congregation.
Family Camping Trip - every July at a favorite campground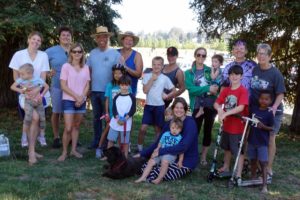 This is organized by the families themselves and is one of the highlights of the year. Usually we stay over two nights, share dinners, have s'mores and sing songs and whatever else everyone loves to do!
World Peace Day Prayer Vigil - September in the Sanctuary; 24 hour vigil
Families are invited to take part with the greater community, by donating an hour of meditation around the labyrinth in the sanctuary for the Unity In Marin participation in World Peace Day. This is a sacred-feeling experience for parents and children to do together.
Christmas Pageant - the last Sunday before Christmas at the early service
Each year we create a new pageant involving all of the children, youth and teachers and perform it on the stage at the early service. We always have costumes (especially for the little ones) and base the pageant on an aspect of the Christmas story; metaphysical interpretations allowed!
Caroling - the week before Christmas
Families and invited friends go caroling together at a public place near the church. Sheet music is provided for anyone who likes. Parents are invited to bring cookies and we enjoy them with hot chocolate in Unity Hall following.
Buying Gifts for Others - two weeks before Christmas
Each year the Unity community participates in buying gifts for children from two local schools whose children come from families with less material resources. Youth and Family Ministry organizes and transports everything; the congregation buys and wraps the presents.