SPIRITUAL EDUCATION CLASSES
YOUTH AND CHILDREN'S CLASSES
Lesson plans are submitted weekly and a teachers' meeting is held with Rev. Pat monthly. Teachers pray together, and help each other with any issues coming up in the program or classes. The teachers, as a group, are a strong, guiding force for the excellence of our programs.
Sometimes classes are joined together to provide exposure to other age groups and for fun activities. For the most part however, each class has its own room and specific curriculum and/or focus.
TEACHERS
Teachers at Unity In Marin have experience with children and teens, teaching and mentoring, and excellent references. They are paid professionals, not volunteers. Parents should feel free to talk with them about the classes or specific needs for their child. Each Sunday a parent volunteer is in the largest class - Unikids - and suggestions and feedback are valued.
The Sunday Program for Children and Youth:
UNITOTS This class is for children from infancy - preschool.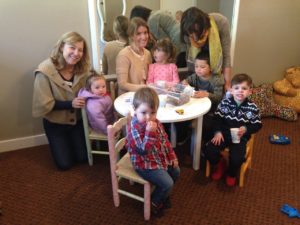 Focus: God-awareness and small prayers; God as love.
Two adult teachers are always present, and a bathroom is also available adjacent to the classroom. Activities vary of course, depending on the child's age; however the emphasis is on having fun and the idea of God present in everyone one and everything. Parents are welcome to sit in at any time, and will be called from the service if their child seems to be in need of them.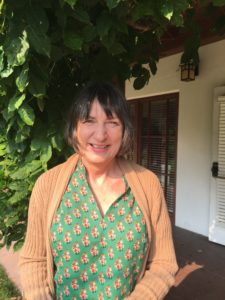 Maja Egger supervises Unitots and has many years experience with infants and small children. Caring for children is also her career outside of the Unity environment. She can be trusted and has wonderful wisdom regarding Infants and preschoolers! Maja is supported in the classroom by Vicki Bornstein and Jane McKewn.
UNIKIDS This class is for children in K - 2nd grade.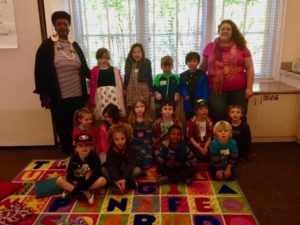 Focus: Developing a personal sense of Spirit as always close, in everything and everyone, existing as a strong, loving presence.
There is always a assistant in this class; usually a parent volunteer. The focus is on learning the Five Unity Principles and really feeling and living them. (See these principles on previous page.) The children come to realize that there is a special, loving energy within their heart. They learn brief meditations and there is an emphasis on listening to their inner voice. They also learn prayer - the idea of being able to talk to that special power and enlist God's help for whatever is going on in their lives, whether it be a problem with a sibling, school work, peace in the world, etc. Bible stories, myths and other more current stories and books stimulate discussion. Art and music are used extensively to create a vivid connection to what they are learning.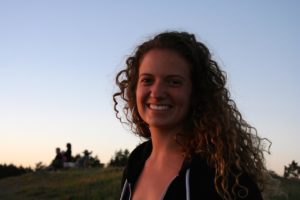 Marika Dominguez teaches Unikids and is our newest teacher. She has worked with small children for years and has a wonderful, positive attitude toward little ones. The children Love her!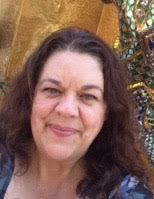 Genevieve Cushing also teaches this class once a month, and has been a strong anchor for this program for several years.
KIDZ This class is for children in 3rd - 5th grade.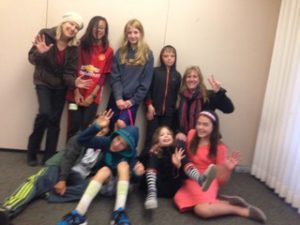 Focus: Learning to create prayers; using the five principles in day to day experiences; consideration of values and beliefs; the Twelve Powers of Unity
This is a very active group and they benefit from learning to quiet through longer meditations; that may include walking mindfully through the meditation garden. Lessons using art-filled activities center around God-consciousness and also understanding and care of one's physical, mental and emotional well-being.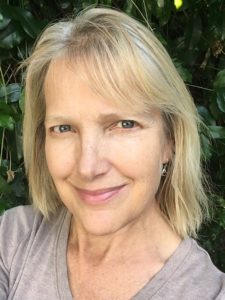 Lissa Masters teachers the KidZ class and comes to us from a background of Montessori teaching with an emphasis on art and music. She has also written the book "A Professional's Guide to Promoting Self-Discovery in Youth; A Creative-Based Curriculum." Her background and skills in the classroom are perfect for this age-group!
UNITEENS This class is for youth from 6th grade - 8th grade.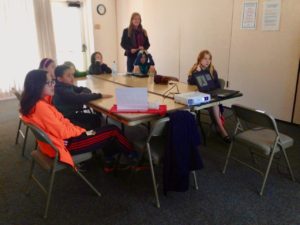 Focus: In Uniteens, the kids learn about other faith traditions and also solidify their understanding and use of the Unity spiritual philosophy and approach to life.
These explorations of other spiritual and religious pathways are powerful springboards for discussion. The kids learn about ritual and the history of spiritual development, consider values and beliefs, and explore their personal understanding of a Power and a Presence greater than ourselves. They have ample opportunity to ask questions and express opinions, developing their own understanding of Spirit/God. They begin to incorporate the Unity principles of spirituality and the Twelve Powers into their lives.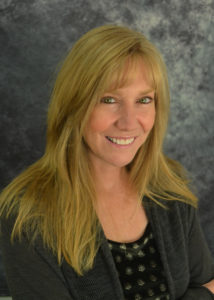 Kristy Coleman teaches Uniteens and has her PhD in Religious Studies. She provides the kind of stimulating material and discussions that call the kids to a higher approach to learning about spirituality. The kids are challenged and respected and respond well to this approach. These years are an important springboard for them to solidify a spiritual grounding with which to navigate the teen years.
YOUTH OF UNITY (YOU) This class is for teens in high school.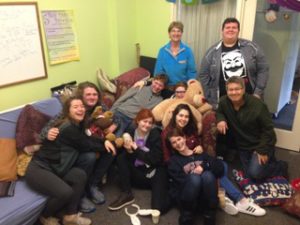 Focus: Development of critical and deeper thinking about spiritual application to personal and life issues.
The YOU program is designed to help high schoolers navigate this increasingly complex world from a position of strength. The weekly sessions are held as open forums for topics that are relevant to their lives, whether personal, family, school, country or world-related. The topic of the day is generated by one or more of the kids. It stems from whatever they are dealing with and/or concerned about. Implementing spiritual awareness helps them to embrace a larger, more empowering perspective.
The sponsors create a safe, non-judgmental, inspiring environment for the teens to authentically express their feelings and opinions. The love generated in this group every Sunday morning is palpable. In such an atmosphere, the kids' capacity to witness, support, and love each other as they tackle thorny topics is amazing.
Regional rallies are held twice a year. The YOU enjoys doing fund-raisers at Unity to support their expenses for these trips. The large gatherings allow them to connect and grow with teens from all around Northern California. These important weekends are filled with conversation, group processes, and high energy singing and dancing. They foster contemplation, deepen the kids' spiritual experience, and increase their trust in others and in themselves.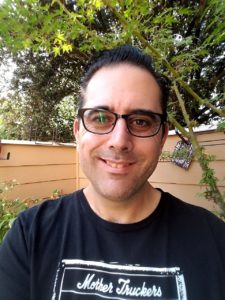 Cindy Hall and Ron Corral co-sponsor the Youth of Unity - YOU - (High school) group. They both have backgrounds in spiritually mentoring young people and are a wonderful team for guiding teens in this setting. Cindy and Ron have established an atmosphere of trust and confidentiality. The kids find the kind of spiritually-based support in YOU that they say they have not found anywhere else. They come to depend on this hour in their lives every week, and seldom miss coming to the YOU group.
CREATING A FOUNDATION
The Five Unity Principles underlie all teaching in the Youth and Family Program:
God is only good and active in everything, everywhere.

I am naturally good because God's Divinity is in me.

I create my experiences by what I choose to think and what I feel and believe.

Through affirmative prayer and meditation, I connect with God and bring out the good

in my life.

I do and give my best by living the Truth I know.
Here is the version for young children in Unitots & Unikids: