Kristin Bowman
Director Youth and Family Ministry
Unity In Marin
Phone: 415-747-0960
Email: Kristinlee64@gmail.com
Our Youth Education Program
Youth Classes
Click Here to Access the
Registration Form for
Youth & Family Ministry
OUR YOUTH EDUCATION VISION IS TO: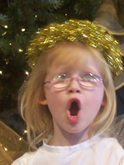 • Create an inspiring and stimulating environment in which every child feels loved and loving…
• Increases his/her awareness of God as ever present and accessible within and without…
• Learns to use spiritual principles in every aspect of their life…
Unity In Marin places a very high priority on children and families. Many events provide good opportunities for different generations to interact, and the Youth and Family programs are well supported.
Every family benefits from many opportunities for talking about what is important in life, and the church home can be that avenue in the midst of the busy-ness of every day life.
Give your family the gift of Unity In Marin's Youth & Family Programs!